Notsmparker's Second Berlin Companion (e-book)
€

13.99
Coming soon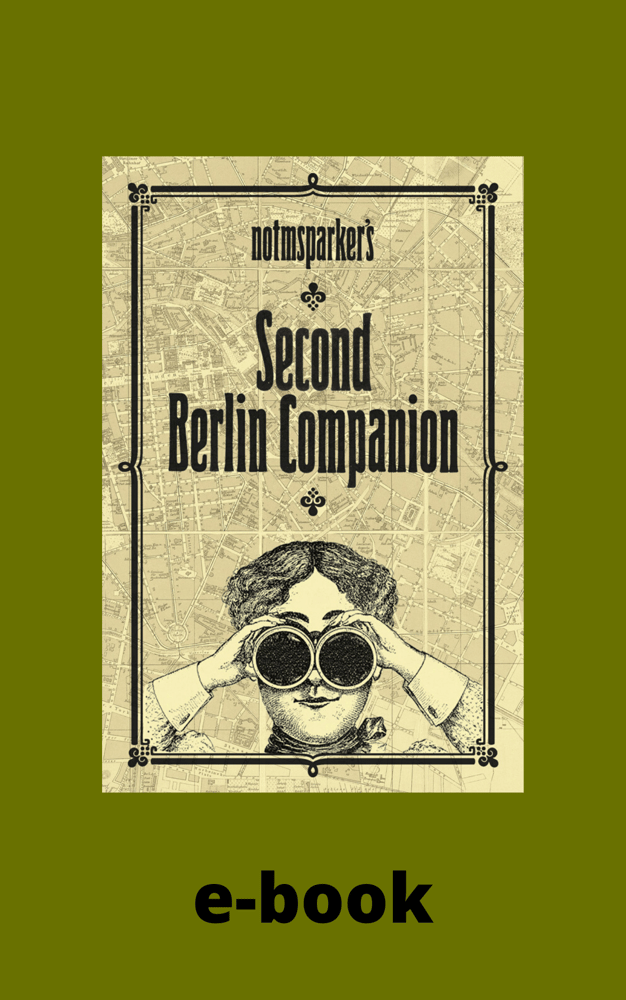 "Notmsparker's Second Berlin Companion" picks up where the first volume left off. Contained within are hundreds of curious Berlin facts and anecdotes, answering questions you never even knew you wanted to ask, such as:
Who was executed with a borrowed axe?
Which Berlin timepiece has connections to the CIA?
Who were "Dicke Marie", "Voller Ernst", "Muskel-Adolf" and "Turnvater Jahn"?
How did West Berlin winter spoil the day for the Cold War spies?
Why did the Nazis save Berolina and who was Berolina in the first place?
Who was Berlin's best Chief Inspector and who its favourite thief?
Since 2011, Notmsparker (Beata Gontarczyk-Krampe) has explored the obscure and ignored corners of Berlin's history for the acclaimed blog "Kreuzberged". For her newest compendium of true tales and strange facts she has turned her attention to subjects as diverse as death, cinemas, nature, sport, vanished objects, and crime.
Notmsparker's original "Berlin Companion" (first published in 2016) is also available from Berlinarium Editions through berlinarium.bigcartel.com.